The count down is on and the Beauty Advents are out in force!
Beauty Advent Calenders seem to be getting bigger and better every single year and I'm not surprised because I really like the idea of them, it's just so nice to wake up to a little gift everyday throughout December ... but it's hard to choose just one! As I have been crushing on soo many Beauty Calendars this year, I thought I would share with you my faves and the ones I'm trying not to cave and buy!!
This calendar is slightly different to your standard beauty advent calendar, because it also has some candles and perfumes as well. This is 25 day calendar which comes with skin and body care products, mini fragrances, two mini candles. Can we also just talk about the packaging? ... I would probably buy this calendar just because its super cute. This calendar is slightly more pricey at £300, but as Diptyque is a luxury brand you do expect the price tag to show that. Although it is pricey, this would be a lovely advent to have as you would wake up to such a nice gift every morning on the countdown to Christmas and if someone was able to afford the luxury price tag of this item then it wouldn't disappoint.
Charlotte Tilbury Naughty and Nice Magic Box
-
£150
(
click here
)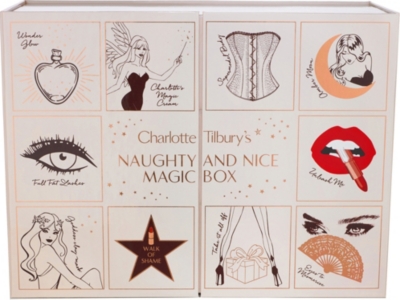 This Calendar is on the price side, but considering you receive 12 Charlotte Tilbury products, and 4 of them being full sized, it doesn't actually seem
that
much! The 'mini' products are also a decent size, which gives you a chance to use each product a few times to know whether you like the product or not, before you purchase the full size!
This Calendar comes with -
Colour Chameleon in Mesmerising Mink
Eyes to Mesmerise in Jean
Lip Lustre Lip Gloss in Unleash Me
Matte Revolution Lipstick
Mini Full Fat Lashes Mascara
Mini Goddess Skin Clay Mask
Mini Magic Cream Moisturiser
Mini Multi-Miracle Glow Cleanser, Balm & Mask
Mini Rock 'n' Kohl Eyeliner in Amber Moon
Mini Take It All Off Eye Makeup Remover
Mini Wonderglow Face Primer
Look Fantastic Beauty in Wonderland Advent Calendar 2017
-
£79
(
click here
)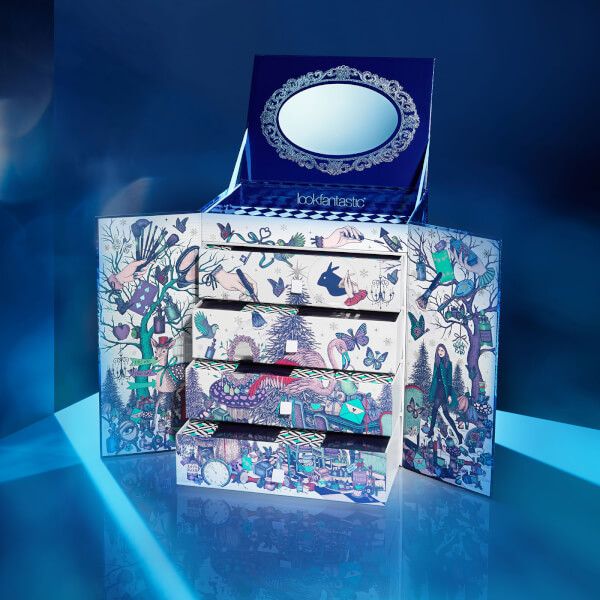 The Look Fantastic Calendar looks so pretty, almost like a jewellery box. This is mid-way between the cheaper and more expensive advent calendars, but the products in this one are worth £300. This calendar comes with 25 different beauty products with 9 of them being full-sized!! I love how this one has a mix of makeup products, perfumes etc. which makes it a good choice, even if you're not a huge makeup lover!
NYX Kiss and Tell Advent Calendar
-
£50
(
click here
)
This calendar comes with 24 different lip products including the Soft Matte Lip Creams, Lip Lingerie, the Liquid Suede lipsticks and others! I really love NYX Products as they're such good quality, but they're also really well priced and easy to get hold of in the UK.
This set includes:
Matte Lipstick: 4 x 2.5g
Cream Lipstick: 3 x 1.6ml
Chubby Lip Cream: 2 x 2g
Liquid Lipstick: 4 x 1.6ml
Matte Lip Cream: 3 x 4.7ml
Lipstick: 3 x 2.5g
Creamy Lip Gloss: 5 x 4.7ml
Jack Wills Beauty Advent Calendar 2017 - £35 (click here)
Moving on to the cheaper calendars, this is the Jack Wills one, which I didn't even know they did until a couple of weeks ago after a little browse! This one costs £35 and comes with 12 different products, all of which are mini, deluxe samples! As I haven't tried any of Jack Wills' beauty products, I don't know if they're big samples or not but this one doesn't seem as worth the money as some of the others, however, right now they're on 3 for 2 on Boots, so I would take advantage of this offer to make them more worth the money!!
This set includes:
English Velvet Body Wash
Signature Body Lotion
Light Gold Nail Varnish
Signature Body Spray
Signature Body Wash
Hope Cove Body Scrub
English Velvet Body Spray
English Velvet Body Butter
Hope Cove Body Wash
Dark Gold Nail Varnish
Berry Lip Balm
Hair Coils - Navy, Pink, White Hair Grips
House of Fraser Beauty Advent Calendar 2017
-
£20
(
click here
)
Last, but not least, it's the House of Fraser Calendar which is now in the sale at £20, from £25. This is a 24 day advent calender which comes with a mixture of beauty products including nail polishes, shadows, liners, lipsticks and much more! I do feel like this calendar would be targeted at younger beauty lovers, as they products are quite childish and clearly cheap, but for less than £1 each this calendar is deffo worth the price!!
This set includes:
Colour Couture Mascara
Colour Couture Black Liquid Eyeliner
Colour Couture Red Lipstick
Colour Couture Nude Lipstick
Colour Couture Eyebrow Pencil
Colour Couture Gold Glitter Liquid Eyeliner
Colour Couture Silver Eye Crayon
Colour Couture Champagne Eye Crayon
Colour Couture Trio Eyeshadow
Colour Couture Red Nail Polish
Colour Couture Silver Nail Polish
Colour Couture Rose Gold Nail Polish
Colour Couture Blusher
Colour Couture Pink Eyeshadow Dust
Colour Couture Gold Eyeshadow Dust
Colour Couture Nude Lip Gloss
Colour Couture Pink Lip Gloss
Nail File
Funnel
Kabuki Brush
Star Glitter Nail Art Pot
Sequin Nail Art Pot
2 x Nail Stickers
I hope you enjoyed this post and maybe saw a calendar you would like this year! I've just gotta choose the one that I like the most ... why does it have to be so difficult haha!
♡♡
Want to see more from me?